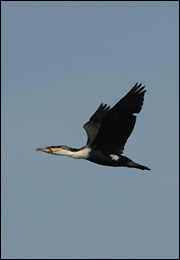 Great Cormorant, of the race P. c. lucidus (White-breasted).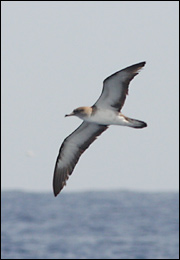 Cape Verde Shearwater.
Photos: Dan Mangsbo, 2003

On this page you will find a compilation of seabird totals, counted from land in spring and autumn during the last ten years as well as totals for pelagic trips off the Cap Vert peninsula in autumn. You also find a summary of the seabird migration from the 2003 tour divided into day-by-day, both land-based and pelagics.
Unfortunately, there are not many birding trip reports available today (see the section "Trip reports"), not even at other web sites that provide trip reports from all over the world. Most available reports from the region cover birding visits to Gambia, sometimes with short detours to nearby birding sites in Senegal. Hopefully there will be more birders in the future visiting Senegal, not only for seawatching, but also for general birding in this big country with its six great National Parks. Niokola-Koba is the most known, especially by birders visiting the Gambia. Another great and well-known area is Delta du Saloum close to the northern border to Gambia. For further information on birding inland Senegal see the 'Travel info' section for a short introduction.
All available reports below are in the PDF format which can be opened in your browser or downloaded to your computer. However, you need at least Acrobat Reader to be able to open these files.