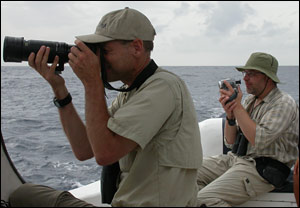 A full day at sea north off the Cap Vert peninsula. From left: Björn Johansson and Janne Hägg.
Photo: Niklas Holmström, 2005

The sea off the Senegalese coast and especially the part bordering the Cap Vert peninsula, are among the richest in fish in the world. This is due to a phenomenon known as the upwelling, which occurs when cold water over the continental shelf rises to the surface. This movement is caused by the trade winds that push the surface waters toward the open sea, creating the suction that allows the cold water to rise. Off Senegal, this movement is enhanced by underwater canyons, which locally produce a nozzle-like effect. The raising water is cold and rich in salts nutrients. The strong sunlight makes the conditions for plankton, the lowest link in the food chain, favourable. No wonder you will find high numbers of foraging seabirds side-by-side with the migrants off N'Gor and Dakar in autumn. It is highly recommended to make a few boat trips off the Cap Vert peninsula!

Differences between pelagics and land-based seawatching
Many birders may consider pelagic trips the foremost way to see and experience seabirds at close range, which in a way is true when compared to seawatching from land. However, those who have great experience of land-based seawatching and are used to certain flight actions and plumages as they are recorded during prolonged observations from a farther distance, can become frustrated over the difficult conditions when watching from a ship. The size of the vessel (ferry, fishing boat or a small game fishing boat) is often crucial for observation conditions. The comparatively small game fishing boats of Senegal often offer close views, but at the same time the birds pass by very quickly and it is often difficult to obtain a clear understanding and consolidation of their flight styles and jizz, which often is more easily done when watching from land. Take pelagics as instructive and happy experiences offering opportunities for first-hand, close-range knowledge and don't expect all seabirds that may be seen easy to identify, especially not from a small boat.


N'Gor Beach and the small island Isle N'Gor in the background. In the foreground the excellent skipper Gabriel.
Photo: Dan Mangsbo, 2003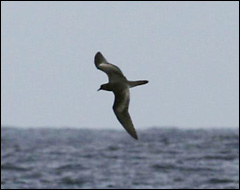 Bulwer's Petrel at sea off N'Gor.
Photo: Göran Ekström, 2003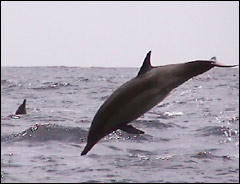 Long-beaked Common Dolphin. Hundreds were seen from land and on pelagics.
Photo: Dan Zetterström, 2003.
When and where
Besides a few pelagics during the spring season, which is a less explored time of the year, most tours have been carried out in the autumn, especially in October. The best autumn area for pelagics is north-west to north of the western tip of the Cap Vert peninsula. One apparently productive route is to travel about two hours towards north-west from the N'Gor Beach, staying there for a while, then head further north and eastwards (north of the peninsula), circling around there and ending up with a slow (or in high speed depending on time left) return back to N'Gor. The British group has followed this route for years as the Swedish team did in 2003. The area covered obviously depends on how many hours you charter the boat for. In a whole day (8 hours) you can cover a much larger area, more distant from land and over much deeper water, which is important if you want to have a fair chance to see both Leach's and Madeiran (Band-rumped) Storm-petrel. My recommendation is to start with a full day at sea at the beginning of your visit to figure out and learn which species pass west along the northern coastline. After a full day it is often enough with a few half days at sea. Even if the skippers are very good as they obviously (without a word to direct them) know that gatherings of dolphins means schools and big concentrations of fish that also attracts seabirds, describe the route for your desired pelagic to the skipper! The skippers, when they know what you are after, seem to have natural talent for adapting to seawatchers! In October 2003 the skipper named Gabriel (Atlantic Evasion) was a very fast-learning man. He was keen to find many small seabirds and drove the boat in high speed in order to intercept flocks of passing skuas (mostly Poms)!
One has to bear in mind that a few differences in the British groups´ pelagic ventures between 1995 and 2001 is a result of their directing the boat towards trawlers off the coast and the productive use of 'chum'. Since the beginning of 2003 all trawlers are banned within Senegalese waters. The Swedish (October) and British groups (November) 2003 did not locate any trawlers except for a few fishing illicitly. For boat companies that know the secret 'chum' recipes, see West African Sportfishing below.
You will find a compilation of pelagic autumn totals here»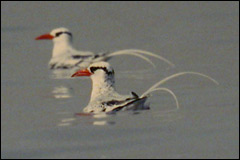 Red-billed Tropicbirds off Madeleine.
Photo: Björn Johansson, 1998.
Iles de la Madeleine
About four kilometres south-west off Dakar, there are a group of islands called Madeleine. The National park Madeleine consists of a main island called Sarpan and two tiny islets. The islands are sometimes known as Isles of Serpents, which is erroneous as there are no snakes living on the islands. This is apparently due to a corruption of the name Sarpan. The most interesting birds here are breeding Bridled Terns and Red-billed Tropicbirds. The entry fee is about 6 Euro. The owner of the game fishing company 'Atlantic Evasion' knows the park warden and can arrange the necessary permissions to land on the main island Sarpan without an extra fee. However, it is not necessarily to land on Sarpan to see the Tropicbirds, but laying offshore and scan the islands from the boat, also round the islands slowly. Several large colonies of (White-breasted) Great Cormorants is to be found on the main island as well as on the islets. Species such as Speckled Pigeon and Black Kites is always present on Sarpan.

Iles de la Madeleine where 1-2 pair of Red-billed Tropicbirds breed. Photo: Martin Oomen, 2005
Boat companies
All boats used for pelagic trips off Dakar and north of the Cap Vert peninsula are relatively small and constructed for game fishing. However, there are a few boat companies that cater to the needs of birders. The British group have more or less exclusively used the Dakar-based game fishing company 'West African Sportfishing' (WAS), which can do pick-ups at N'Gor Beach. However, the company seem to be closed down nowadays.
In autumn, 2003 there were problems getting in touch with WAS, which caused difficulties in planning the pelagic trips for the Swedish team. But the team discovered that there are many more game fishing companies in the area and a few located along the N'Gor Beach, for example "Atlantic Evasion". In 2004 and 2005 both Swedish groups visiting the area used Atlantic Evasion for all pelagic trips.
One of the boats belonging to 'Atlantic Evasion'. Most game fishing boats are similar in size.
Photo: Martin Oomen, 2005.
The 'Atlantic Evasion' office, which also has a good restaurant. Located on N'Gor Beach.
Photo: Niklas Holmström, 2003.
Atlantic Evasion
Located on the middle of N'Gor Beach. It is close to the path leading down to the beach, from which you will arrive also when heading for Isle N'Gor. Remember to book a boat a few days in advance, especially if you wish to undertake a boat tour during the weekend. It is also possible to make a reservation a few weeks beforehand via email or fax. Each boat takes 4-6 birders and the price quoted below is the total for the whole boat.
Price
Full day (8 hours): 300 Euro, but the price vary between type of boat model one choose.
Half day (4 hours): 200 Euro (for example a tour to Isle Madeleine).
Fax: +221 820 75 80
Email: info@atlantic-evasion.com
Web site: www.atlantic-evasion.com

Overfishing and trawlers
In the last decade, overfishing off the coast of Senegambia has been of great environmental concern as well as an economic issue. For many centuries local fishermen harvested the seas off the Atlantic coast and until the mid 20th century, fishing was a sustainable industry. However, the many trawlers consuming and depleting the stocks of fish throughout the 90's have now been stopped. Since 2003 all foreign trawlers are banned within Senegalese waters, and regardless if you are a seawatcher looking in vain for presumed trawlers and their following of good birds or just a pelagic wanderer passing by, this decision will make future generations of both happy!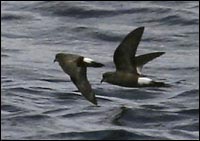 European and Wilson's Storm-petrel (right) off N'Gor.
Photo: Göran Ekström, 2003
A pelegaic trip by Senegal Bird Club
Five intrepid birders set sail on a breezy morning, Saturday, on 18 November 2000. We set off in a 20-foot fibreglass open skiff with a 40-horsepower engine and a 15-horsepower "kicker". The captain used the 15-horse kicker for the two hour trip out to the drop-off of the continental shelf. We braved ten- to twelve-foot seas. As we left the harbor, we saw three Great Cormorants. About thirty minutes out, we saw our first Lesser Black-backed Gulls and Cory's Shearwaters. Another hour or so later, we saw six trawlers on the horizon. When we reached the trawlers, we got into mixed flocks of Cory's Shearwaters, Cape Verde Shearwaters, Great Shearwaters, a few Sooty Shearwaters, European Storm-petrels, Pomarine Skuas, 'Great' Skuas, Kelp Gulls. We drifted among the birds for about an hour. As we were heading back, one of the trawlers began to pull up its nets. The first birds attracted to the rising net were Common and Roseate Terns. Larger number of Cape Verde Shearwaters and a fewer Cory's Shearwaters soon joined them. We headed back to N'Gor, arriving on terra firma at 1:15.
The short pelagic story above is written by Langdon Barone and Ann Gordon, provided by Betsy Hopkins, Dakar.